Happy New Year!
It's a brand spanking New Year and that only means one thing! Well, two things. Firstly the hurried, panicked consumption of left over Mince Pies and chocolates from Christmas (8 pies and 4 boxes to go!!) and secondly the annual tradition that is the What Kate Baked 2017 baking trends forecast. As unreliable as the weather, as ill informed as the President-elect of the USA and as inaccurate as ever!
Marbling


By the end of 2017 all baked goods will
resemble this metamorphic rock
. Your standard tin loaf will resemble the marbled Taj Mahal, your Welsh Cakes will resemble the the Washington Memorial and your key lime pie will resemble your ... kitchen worktop. Well, sort of. But doesn't it look pretty?
Portugal
Viva! Step aside Peru, this year's
hottest travel destination
will be influencing the food we'll be eating over the next 365 days. The legendary Portuguese Tart will be on every baker's must-bake list (or must-buy list if you've a brilliant Portuguese Bakery just down the road like we have).
Fancy flours
Start relegating your plain white flour to the back the cupboard this instant.
Coconut flour
is the flour you need to be using this year. Sure, it is at least ten times the price of your standard stuff, but you'll be bang on trend my friend.
Sweet and Savoury
In the confusing taste turmoil that is combining sweet and savoury on the same fork, look out for savoury doughnuts such as the crab doughnuts served at Chiltern Firehouse and the seafood sundaes currently being enjoyed in the finest Parisian patisseries
Ice Cream Roll-Ups
Not the illegitimate child of Mr Whippy and a circus ringmaster's favourite saying, but a Thai street-food where
liquid ice cream is flash frozen
, stuffed with fruit then wrapped up burrito-style before being garnished with cookies. Otherwise known as your entire daily calorie allowance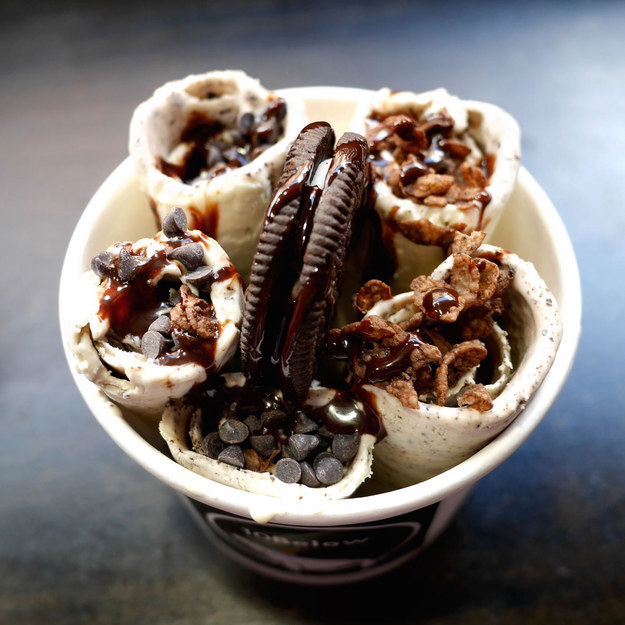 And saving the very best trend for last...
Chocolate Cake for
breakfast
Yes, you read that correctly. Throw aside your toast, wave cheerio to your Cornflakes, lets celebrate the dawn of 2017 with chocolate cake for breakfast. According to the Evening Standard the health benefits of dark chocolate means we'll be eating chocolate earlier in the day, not just in December when advent calendars provide a fulfilling, nutritious breakfast.
Grab a plate, channel Bruce Bogtrotter and have a very Happy New Year!