With just nine days left until Christmas (approximately 104 shopping hours*) I've taken all the joy/despair out of that last minute 'what on earth am I going to get the foodie in my life?!'
panic.
You are very welcome.
* Totally random, made up figure.
I don't think anyone will ask for the receipt if they were to open this beautiful recipe tin on Christmas morning (
dotcomgiftshop £9.99
)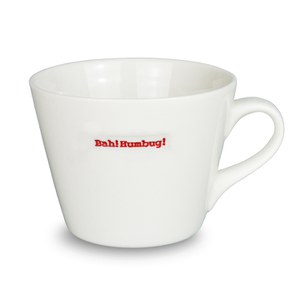 Fans of the Great British Pottery Throw Down will be 'pot-ty' about this festive mug from judge
Keith Brymer Jones
(£10)
Chocolate obvs isn't just for Christmas, but this scrumptious seasonal offering from
Lindt
certainly is; I can't imagine it lasting past Boxing Day (£8.99)
Of all the trillion* cookbooks out this year, I reckon this one is the best. Read my review
here
(Homemade Memories, Kate Doran £18.99)
*Another random, made up figure.
Games and Christmas go together like January and gym membership. Here's a chocolate version of the classic Guess Who? (
Selfridges
, £12.99)
Tick all the boxes with a Christmas Hamper from
Waitrose
(£24-400)
Someone will have drawn the short straw and have to do the washing up on Christmas day. A festive tea towel will surely help with such matters (
Emma Bridgewater
£10)
Pannettone makes a great gift and this enormous, award winning offering from
Carluccios
is 5kg of pure candied fruit and peel (£65)
In the market to get your recipient absolutely trollyed by 3pm this Christmas? This Three Month Gin Journey Subscription should do the trick (
Shaken
, £72)
For the baker in your family a Nordic Bake Ware Bundt Tin is always going to garner 'brownie' points (
Divertimenti
, from £30)
Want to whip up a curry in a hurry? Can't recall how many eggs matter in a batter? This print will give you the answers to pretty much every cooking query (
Paperplane Designs
, £18)
Bucks Fizz Marmalade. Festive toast sorted. (
Fortnum and Mason
, £7.95)
And finally who doesn't need a bear hugging bottle opener in their lives? Exactly. (£9
John Lewis
)
PS: I have sent this post to my husband about 34 times.