The turkey has been made into umpteen curries, only the Toffee Pennies remain in the Quality Street bumper tin and the tinsel is looking tired...it must be the end of December! And time for the Tea Time Treats Round-Up. The theme this month was Christmas Foodie Gifts, a super popular theme with over fifty entries!
As many of you know, this will be my very last hosting of
Tea Time Treats
- thank you for all your support and delicious recipes.
Utterly Scrummy provided our very first wonderful entry:
Chocolate Fudge
, an early Christmas present for her very lucky husband! Utterly Scrummy also baked these
Festive Fruit Pies
Doesn't this next picture just look so inviting? I just want to grab my nearest mixing bowl and make some pastry for this glorious
Pumpkin Mincemeat
by Veggie Desserts. The second entry are Mince Pies with
Spinach Pastry
Fab Food 4 All has made
Finnish Shortbread
('
Finsk Brød'- try saying that after an Egg Nog or two!) with almond and a lovely sugared topping. The second entry is this pretty Christmas Wreath
Biscotti make such a brilliant festive foodie gift, not least because they are perfect for dunking in a warming hot chocolate and can be made well in advance.
Caroline Makes...
made these for a colleague to celebrate the birth of her new daughter. Caroline's second entry are these
Hershey's Kiss Thumbprint Cookies
I adore this next entry. It needs no further introduction: thank you to Little Button Diaries for this
Christmas Pudding Pinata Cake
My co-host (for one last time!), Karen from Lavender and Lovage has developed this lovely and ever so festive recipe:
Tea Cup After Eight Chocolate Mousses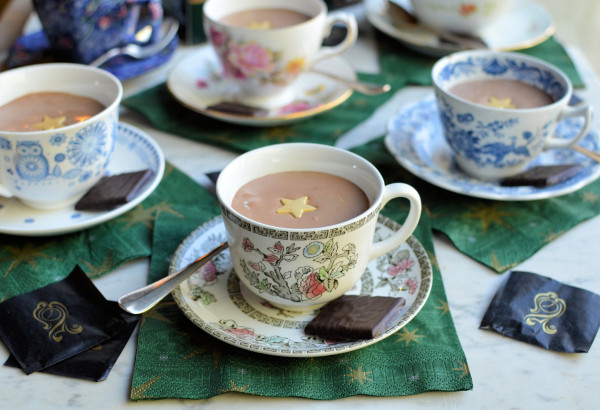 Reflecting on Christmas in her post, Life Can Be Simple has baked this scrumptious
Tiramisu Cake
and
Chocolate Guinness Cupcakes
Hungry Hinny has baked these fabulous
Festive Alfajores
. Perfect- we returned from our South American honeymoon in the summer. Hungry Hinny explains
Alfajores
'are an Argentinian/South American biscuit, made with cornflour so they're quite dry and crumbly, flavoured with Pisco and sandwiched with dulce de leche'
Crumbs and Corkscrews has baked the Tea Time Treats table these gorgeous
Peppermint Pinwheel Cookies
Quinemeat Oatie Slices
are a slightly healthier but very tasty option for this decadent time of year, from Shabby Chick
This next entry from Mint Custard is such a lovely idea-
gingerbread stars
to hang from a festive mug of hot chocolate or mulled wine. Mint Custard entered a second bake:
Candy Cane Marshmallows and Popcorn Balls
Maison Cupcake has baked these
Festive Mini Coffee Cupcakes
, complete with festive glittery gold cases adding a little Christmas sparkle
Bangers and Mash describes how tucking into this next entry,
After Eight Sundaes
ensured the whole family entered into the festive feasting spirit as they decorated the Christmas tree. Bangers and Mash's second entry are these
White choc, cardamom and cranberry cookies
Ahhh, truffles! I was waiting for these classic foodie gifts to make an appearance! The Lass in the Apron has made these
Truffled Prunes
. Alexandra describes them as:
'
moist, succulent prunes, filled with creamy ganache and sheathed in dark chocolate'
The Gluten Free Alchemist explains how much she enjoys this time of year and
'concocting delicious edible inventions to feed anyone brave enough to eat them'
including this yummy
Apple and Blackberry Curd
Another great Christmas foodie gift comes from A Kick At The Pantry Door with a handmade
Hot Chocolate Mix
Doesn't this next image just look so Christmassy and make you want to start crooning a traditional carol or two? Thanks to Eat Your Veg for these festive
Chocolate Gingerbread Tree Decorations
. Eat Your Veg's second entry are these
Chocolate Truffles
Inspired by the team at Rococo Chocolate Log Blog has made these
Goat's Cheese Choc Truffles
. I couldn't agree more with Choclette:
'these would make excellent Christmas gifts for the more adventurous chocolate or cheese lover'
Allotment 2 Kitchen has made these lovely
Vegan Gingerbread Men
Complete with vanilla, blackberries and (the best ingredient!) cognac, Kitchen of Kiki has made this delicious
Christmas Jam
Deon from Food Jam has made
Loaves and Ginger Cakes
, taken as a thank you gift for friends
Christmas Pudding Vodka
anyone? Thought so! What lovely festive tipple from Foodie Quine
Green Gourmet Giraffe has baked this delightful
Chocolate Layed Fudge
, with caramel and peppermint
Elizabeth's Kitchen Diary
Vodka Chilli Truffle Fudge
, complete with a hint of heat and glug of booze... well, it is Christmas after all!
Food Glorious Food has baked these
Christmas Brownies
- I do love a gooey, chocolaty, fudgey Brownie!
Baking in Franglais has created a brilliant
Triple Chocolate Christmas Cupcake Kit
- perfect for enthusiastic young bakers or prospective Bake Off contestants!
Doesn't this next entry just scream out 'BRING ME A VERY LARGE PLATE I'LL BE NEEDING THIRDS'? Belleau Kitchen has baked this glorious
Bailey's Chocolate Bundt
My darlings and Me promises that this next recipe,
Quick Chocolate Fudge
, is the
'quickest, easiest, no-bake recipe ever'; an ideal Christmas foodie gift in that case!
Inspired by a Hugh Fearnley-Whittingstall recipe, Tasty Recipes has made one of my all time favourite sweet treats:
Christmas Tiffin!
My Cupcake Habit baked
Gingerbread Biscuits
for the very first time, baking these beautiful gingery and cinnamon festive stars
Mainly Baking reckons these
Fig, Pistachio and Honey Balls
could be almost considered a guilt free Christmas treat (all the better as we approach bleak, resolution-filled January!). Complete with dried fruit, nuts, honey, orange and cinnamon they are a delightful foodie festive gift!
And, finally, my entry:
Christmas Almond, Orange and Pistachio Biscotti
Many, many thanks to everyone for all the wonderful, inspiring and delicious entries over the last two years.
General life commitments have meant I regrettably need to cut back on my Tea Time Treat role but the blog is
continuing
as I strive to satisfy my very, very sweet tooth regularly here on What Kate Baked.
Meanwhile,

Karen will have a scrumptious new theme for 2014 over on Lavender and Lovage over the next few days.