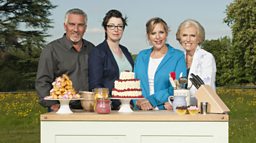 Image courtesy of The BBC/Love Productions
For nine weeks an entire nation has been glued to the telly every Tuesday night at Eight O Clock for The Great British Bake Off. This week is the culmination of hours of kneading, mixing, stirring, piping and an awful lot of anxious staring through the oven glass.
Has Kimberley peaked too soon? Will Ruby's doe-eyed 'You mean it's actually good?' schtick wear off? Will the Dame of Design, Frances, fall at the final hurdle?
With the final of this year's more-popular-than-ever Bake Off just days away, here are my thoughts as I ponder exactly how do you win the Bake Off?
By the end of the Quarter Finals Ruby had won Star Baker three times. With this pedigree, the most junior of betting shop assistants would place Ruby as firm favourite. Whereas Beca, who of course left last week amongst tears and Mel-n-Sue sandwich-hugs, had never won star baker the entire series.
But you don't have to be favourite...
In last year's all-male final (how times have changed!) champion John Whaite was not the favourite to win but a show-stopper chiffon cake sealed the deal when bookies favourite, James, failed to live up to expectations.
Don't bake with aniseed or coconut
Mary will spit out any coconut flavoured cake. Well, not literally, our Mary is far too polite. She'll probably cough into an embroidered Handkerchief out of view of the cameras. And Paul can't bear aniseed. Useful to know before presenting your Three Tiered Coconut and Aniseed Celebration Signature Cake.
Ultimately It's All About Best Baker On The Day
Quite frankly the last nine weeks will disappear into a cloud of excess icing sugar by the final. It's all about who can produce the best bakes on the day. No pressure then.
So who will actually win?
The Ruby-favouritism debate has confirmed one thing. Erm, Ruby is indeed favourite. Kimberley seemed to have deflated in recent weeks, like an unsuccessful soufflé, before rising again in the Semi-Final like a lovely loaf. Meanwhile although the judges bemoan Frances' style over substance attitude to baking, heck, it hasn't done the cupcake industry any harm.
But one winner of the Bake Off we can already confirm is a major Supermarket chain. By Week Two Waitrose claimed that the show was behind a 12% surge in sales of homebaking products with pastry sales up 27% and sugar sales by 17%.
Who would you like to win?