From comforting crumbles to terrific tarts to scrumptious sticky sponges... read on for a super selection of 'Perfect Puddings'- this month's
Tea Time Treats
blogging challenge theme!
Our first entry this month: what do you get if you cross the finest savoury pudding known to man (the Yorkshire Pud) with lashings of golden syrup and a generous scoop of icecream? Camilla from
Fab Food 4 All's
Yorkshire Pudding with Ice Cream and Golden Syrup
! Camilla also baked us this
Bacon Roly-Poly
: an old fashioned British pud bought bang-up-to-date!
Choclette from
Choc Log Blog
has been meaning to make this next entry, a
Mexican Chocolate Pudding
, for three whole years! It was well worth the wait, complete with lime mango and chilli, you should read what CT, Choclette's partner had to say about it... And Choclette's second entry is this super stack of
Chocolate Pancakes with Blackcurrent and Rose Compote
Victoria over at
A Kick At The Pantry Door
has set herself the most marvellous challenge- to bake, following the exact recipes, all of the technical challenges in the recent Great Comic Relief Bake Off. As well as eclairs, Victoria has also baked this brilliant
Bakewell Tart
- 'specially resonating with Victoria as she grew up just down the road from Bakewell! Now there's a mighty fine place to be growing up...
We feel very honoured that the very first thing Eira, aka
Cookbooks Galore
, baked in her new kitchen was for Tea Time Treats. And what a bake to christen the kitchen: this glorious
Ginger and Chocolate Gooey Puddings
While for many, rice pudding may conjure up the thought of soggy school dinners, this fabulously flavoursome version from
Turqouise Lemons
is certain to banish any bad memories:
Left Over Coconut Milk Pudding with Honey, Clementine and Cloves
has 'A* pudding' written all over it!
Celebrating Bramley Apple week and the start of rhubarb season,
How to Be a Gourmand
has baked the Tea Time Treats table this
Apple Rhubarb and Nut Crumble
complete with a smashing stash of almonds, walnuts and hazelnuts
Fancy a recipe for a super fast pudding? Look no further than
My Golden Pear's
Lemon Ping Pudding
. In just 14 minutes flat you could be sitting down to this zesty, lemony sponge pud!
A Maltese in
spired pudding, Puddina Chocolate Pudding comes from Cook With Kary who describes this perfect pud as '

dense on the inside and crusty outside, with all the crunch of the nuts and sweetness of the dried fruits adding to an overall satisfactory dessert'
Next up, a more traditional, warming, comfort pud I don't think you'll find. Say a big hello to
Blue Kitchen Bake
's
Syrup Sponge Pudding
!
Baked following a request for a 'Gruffolo Crumble'
The Peachick's Bakery
came up trumps with this sweet
Peach and Pear Crumble
Recreating a dish enjoyed in Amsterdam, Caroline from
Caroline Makes
baked this
Chocolate Mousse in a Chocolate Cup with a Biscuit Spoon
. Woozas! an actual biscuit spoon!! Now that is one Valentine's Tea Time Treat!
Forget Lemsip and all the potions available in your local pharmacy- all your need is this humdinger of a pud to ward away any sniffles this February:
Honey and Ginger Chocolate Steamed Pudding
by the brilliant
Belleau Kitchen
Baking her very first (hopefully of very many) steamed
Treacle
pudding is Leesa from
Life of a Mother
- thank you for your first TTT entry Leesa!
This next dessert, an
Ecclefechan Tart
from
Mainly Baking
is a Scottish fruity classic- Suelle recommends serving with a lovely dollop of creme fraiche but I hear traditionally a little dram of whisky also makes the perfect accompaniment....
Chocolate and toffee? Now there's combination it would take all the willpower in the world to say 'no thanks' to a second serving! This
Chocolate Sticky Toffee Pudding
comes courtesy of
Hungry Hinny
who asks whether tourists to the UK tuck in with as much gusto to our puddings as we tuck into, say the Belgium chocolates or Italian gelatos. I say, with this perfect pudding, most definitely!
This next TTT entry has grand historical provenance- enjoyed by no less than Admiral Lord Nelson! Elizabeth from
Elizabeth's Kitchen
uncovered a teatowel at a local charity shop which revealed a recipe for
Nelson's Slices
The brilliantly named
Coffee and Crumpets
has baked
Double Ka Meetha
(Indian Rice Pudding) for this month's TTT table and provides a fascinating background and history of Indian desserts and puds in her post.
Check out what my Tea Time Treats buddy
Karen
has been busy baking:
Chocolate Paradise Bread and Butter Pudding
! A perfectly inspired storecupboard pudding and complete with pineapple, ginger and chocolate, Karen describes
'
the pudding was like eating bananas and custard with tea cakes and marmalade, pretty lush'. Very lush I'd say!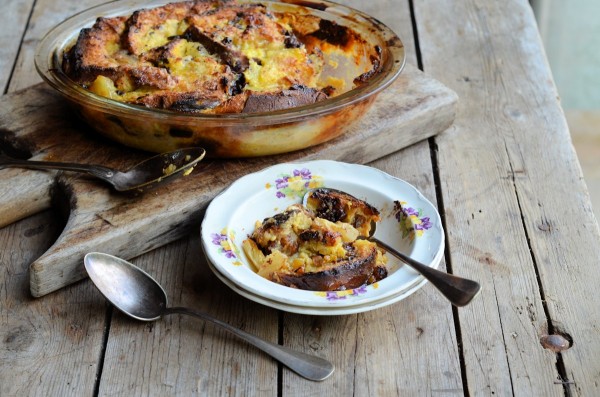 One of the really fascinating aspects of this month's theme is the international interpretation of 'pudding'. For Kiki, from Kitchen of Kiki pudding means a powdered packet dessert! But Kiki has certainly come up trumps with this Apple and Oat Crumble with the inspired addition of chai powder
This next entry brings to mind much, much warmer climes:
Elderflower and Raspberry Bakewell Puddings
. But that could well be because Claire from
Under the Blue Gum Tree
resides in South Africa where they are enjoying (not jealous. not jealous. not jealous) very balmy temperatures. A lovely addition of an elderflower cordial to a classic British dish.
Karen is hosting March's Tea Time Time Treats- pop along to
Lavender and Lovage
on 1st March for the details. Here's a little clue: the theme begins with ...'F'!
Thank you, as always to all the perfect 'perfect puddings'!